By Jim Pritchett & John Pritchett (Family Group 1)
The arrival of three members of the Pritchett Group 1 in Beaufort County, North Carolina, on November 4, 2009, was the culmination of a journey that began three centuries ago. The group's genealogy research had progressed independently and simultaneously in four different areas of the United States. Clay, (Lubbock, Texas), Rodney, (Marietta, Georgia), Jim, Monroe, Michigan) and John, (Powell, Ohio) are the four cousins who until November, 2008 hadn't met or corresponded with each other. They were working toward the same goals; identifying, documenting and eventually visiting the land where their Pritchett forefathers had lived. Their participation in the Family Tree Y-DNA Project brought them together and provided the documentation to show that they were descended from common Pritchett Ancestors. This discovery eventually lead them full circle back to Beaufort County, North Carolina for a mini-family reunion three hundred years in the making.
Their membership in the Y-DNA Project also reinforced comments from various people who had seen the attached photo and commented: "You can sure tell that you guys are cousins, in fact you look like brothers". Another benefit of their membership in the Y-DNA project was the documented proof that their Pritchett descendants had migrated to different parts of the United States.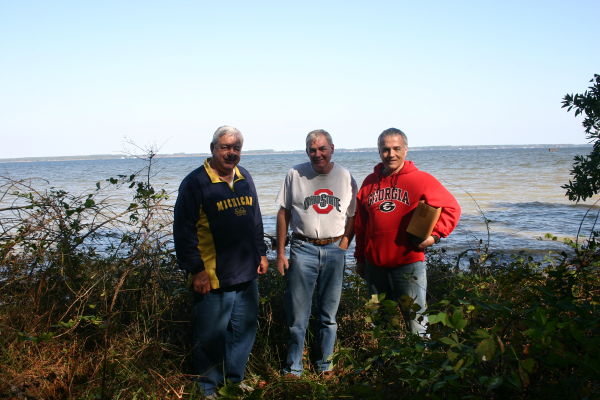 Cousins Left to Right: Jim Pritchett, John Pritchett and Rodney Pritchett, stand in the footsteps of their Pritchett Ancestors near the 2nd Gut on the South shore of the Pamlico River in the town of Aurora, Beaufort County, North Carolina on November 4, 2009. The journey for these three cousins began three hundred years ago when their Pritchett ancestors built a plantation on this very spot.
The Pritchett Migration from North Carolina By Jim Pritchett
My first introduction to genealogy was in the 1970's. I received a family tree book as a gift at a Pritchett Christmas gathering and began writing down genealogy information that same day. During subsequent family gatherings, armed with a cassette recorder, I asked my living relatives to record their memories of our family history. It was at one of these sessions that I hit my first "brick wall". My Pritchett relatives assured me that our grandfather, Edgar Leon Pritchett (1880-1933), was an orphan and probably not a Pritchett blood line descendant.
In the mid 1980', I learned from my twin cousins, Thomas and Jerry Pritchett of Chicago, Illinois, that Edgar was adopted by John & Annie Pritchett, brother and sister of Marshall County, Mississippi. In their later years, John & Annie moved from Mississippi to Arkansas to live with Edgar. This information opened up many new doors but did not completely tear down my brick wall. The brick wall came tumbling down in 1988 when I received a letter from Doris Melissa (Pritchett) Horlacher. Doris had recently published a book titled Pritchett's in America, Edition II. Within the book, Doris had documentation to connect our family line to the Pritchett's in the early 1700's in Beaufort County, North Carolina. Her documentation showed that my grandfather, Edgar Leon Pritchett, was indeed adopted by John & Annie Pritchett, but that Edgar's father was Abisha C. Pritchett, Jr., the brother of John & Annie. That afternoon, when my wife Sally came home from work, I met her at the door and told her, "I really am a Pritchett". I continued to correspond with Doris for several weeks and contributed my genealogy information to her newsletter, Pritchett's, Helping Pritchett's. Doris suggested that a more thorough examination of the Beaufort County land records could yield further clues to help trace my Pritchett ancestors. I wouldn't discover until years later how to obtain and research those records.
My Pritchett genealogy research was given a big boost in the mid 1990's, when my employer, Ford Motor Company, offered all of its employees the opportunity to purchase a new computer at a discount price. Shortly thereafter, I subscribed to Ancestry.com. That is when my genealogy research took off. I posted inquiries on several message boards. I received a response from Jenny Respess Hollowell of Beaufort County, North Carolina. Jenny's ancestor, Elizabeth Respess, married my ancestor, Thomas Alderson Pritchett (1806-1850). Jenny, who was a member of the Beaufort County Genealogical Society, provided a lot of documentation that helped me establish my North Carolina roots. I now was able to trace the path of my Pritchett Ancestor's migration through five states: North Carolina, Mississippi, Arkansas, Illinois and Michigan.
Pritchett Family Group 1 Joins Forces
I hadn't been able to establish contact with any present day Pritchett descendants other than my first cousins until November, 2008. That is when John Pritchett of Powell, Ohio contacted me via an Ancestry.com message board posting.
John, who had also been researching the North Carolina Pritchett's for several years, indicated that he suspected that we were cousins descended from Abraham Pritchett (1707-1748) in Beaufort County, North Carolina. John and I began an exhaustive research of land deeds, last wills and testaments and other documents thru the use of microfilms. My introduction to genealogy research using microfilms came two years earlier when I visited the LDS Family Learning Center in Salt Lake City, Utah with my local genealogical society from Monroe, Michigan. John & I ordered films from Salt Lake City at local Family Learning Centers in Michigan & Ohio. After several months of research and sharing our research, we met face to face in Ohio in the spring of 2009. It was at this meeting that we began to make plans for a trip to Beaufort County, North Carolina, to actually visit the area where our Pritchett ancestors had once lived. It was during this time period that Rodney and Clay joined our group after we had all enrolled in the Y-DNA Project. Their research had begun by researching land records in Virginia, North Carolina, Georgia, Alabama and Texas. In 1784, the state of Georgia offered land to settlers from other states via the "Headright System" It was through those documents that Rodney found documentation showing that Philip Pritchett, Henry Trippe and John Trippe from Beaufort County received land grants in Washington County, Georgia.
The Jones County Branch By John Pritchett
Aunt Mary took me aside and whispered, "Johnny Boy," (She always called me "Johnny Boy" even when I was 40, Daddy was "John Junior"). "Here's something very important that I want you to have." She handed me her well loved copy of Records of Jones County North Carolina 1769-1868 by Zae H. Gwynn. The pages were dog-eared, she had written on the cover pages and every time the name Pritchett or Pritchard appeared she had underlined it. "It tells about your Great Grandfather and Great Great Grandfather."
Over the next several years I read the entries she had underlined in her shaky handwriting and the notes she had scribbled in the columns and tried to figure out exactly who was whom and where they lived from the brief abstractions given by the author. I could go back from my daddy, John Edward who was born in Pollocksville, Jones County, North Carolina to his daddy, John James (my grandfather) who died when my daddy was only 9. To his daddy, Edward (my GGF) who lost everything during the Civil War, to his daddy, William (my GGGF) who first bought land in Jones County in 1836. But any mention before 1836 was not to be found in that book. It was only after I journeyed to Raleigh N.C. in search of any lead to William's father that I found the original deed to the land William first bought in 1836 and I read the entire sentence, "William Pritchett of Beaufort County" The author had left out three very important words, "Of Beaufort County". This was the breakthrough I needed to get me out of the Jones County dead end. Sure enough, there he was in the 1830, 1820, and 1810 Beaufort Co. census living next door to his father-in-law. It was about this time I met Jim. I often saw the name James Pritchett in internet forums and as a contributor and I wondered whether we might be related in some way. I wrote to him to share information that I had on the Beaufort Pritchetts. He replied but we couldn't make a common connection. I had come to a dead end of my document trail at about 1820 or so and I believe he had also. But there was a 1747 will of an Abraham Pritchett of Beaufort Co. that listed five sons and was very specific in some of the land descriptions. If we could work forward from that family we might tie them to our earliest known ancestors at that time which was not the same person. We may be able to prove a relationship between ourselves. That would be exciting genealogically. If we could do that we would add about 100 years and 3 generations to our family trees. I began to research early Beaufort Co. deeds and correlate their descriptions to a current map of the area and maps made just after the Civil War. Jim worked on the wills. We would find descriptions of land that was deeded to Pritchetts, willed to descendants, and eventually sold by our known ancestors. That gave us a line of descendancy to our earliest known ancestor and showed that we were both related to an Abraham and Margaret Pritchett and to a Peter Pritchett, Abraham's father, whose first known document was dated 1708.
Jim and I are sixth cousins once removed. In working with the deeds and maps we discovered that we could point to specific landmarks and say, "this deed is to this specific piece of land" and it was all owned by one landowner, PCS Phosphate. One of the plantations in Abraham's will was called 2nd Gut and it was bordered by Leigh's Creek, Pamlico River, and James Leigh's line. But we couldn't find Leigh's Creek on a current map although it appeared prominently on a map of 1870. So one day when I had nothing better to do I called PCS Phosphate and asked for the archival map room. I got Curtis Brown. I told him why I was calling and asked him what happened to Leigh's Creek. He told me that PCS Phosphate, then Texas Gulf Phosphate, filled in Leigh's Creek in the 1960's and built their plant on it but that the land just to the east of Leigh's Creek, the land that our ancestors had owned originally, was left just as it was when Texas Gulf bought it and that they were just now beginning to prepare that area for mining by building a road. I asked whether Jim and I could see it. Curt said sure, come on down and we'll walk around on it. I asked about another piece of land described in Abraham's 1747 will as, "The Fork" between South Creek and Bond Creek.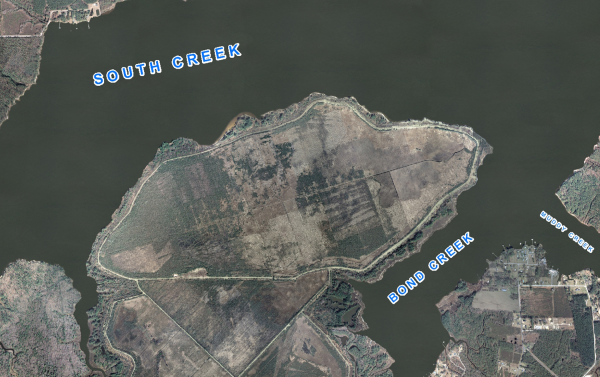 "The Fork" between South Creek and Bond Creek.
He said that when Texas Gulf first began mining they deposited the "overburden", the top dirt that they scrape off to get to the phosphate, on top of "The Fork" and that the shoreline there was also not affected by the mining operation. He said that PCS Phosphate had reclaimed the entire fork between South Creek and Bond Creek and had planted Sycamore trees and designated the land of our ancestors a gated wilderness preserve. It contained bear, cougar, deer, and many other species. Some genealogists return to the land of their ancestors and they get a Wal-Mart or a field of condominiums or slums to view; Jim and I got undisturbed shoreline across the river from Blackbeard's hangout and a nature preserve. Of course Jim and I have got to go see this. Who knows, Blackbeard might have buried all his treasure right there on Garrison Point. I asked Curtis if we could come there in October. He said, "October or November is a good time because the cotton-mouth water moccasins have mostly gone to ground by then." Reassured, Jim and I planned our trip and invited Clay and Rodney to go with us.
Beaufort County North Carolina is situated on the south side of the Pamlico River near the Atlantic and the closest hotels we could find were across the river in Bath N.C. Jim and I found a campground that rented camping trailers right on Muddy Creek, very near South Creek. We wanted to be closer to South Creek where Peter and Abraham had their plantations, to travel the same roads, see the same land features, smell the same smells that Peter and Abraham had done 300 years before us. When Jim and I first arrived on Monday evening, November 2, 2009 it was the smells that I first noticed. Beaufort County smells like pine trees and river, kind of woodsy, not at all unpleasant. But pine trees mostly. I'll never forget that smell. I want to smell it again someday.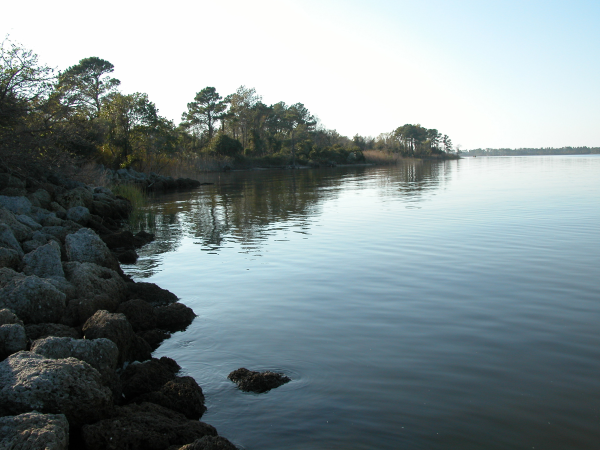 "In the footsteps of our ancestors!"
Tuesday morning Jim and I drove around to just get an idea what the land looked like and we took some pictures. We called Curtis Brown about 10:30 or 11 AM and he invited us to his Land Management office and then to lunch. He and his assistant John Prescott were gracious hosts and drove us around "The Fork" described above. "The Fork" was willed to Jim's and Rodney's 5GGrandfather, Phillip in Abraham's 1747 will. It really was a wilderness preserve, secured from entry by a locked gate, but John had the key. The only "road" was a grassy flat spot around the perimeter about 100 feet or so from the shores of South Creek and Bond Creek. Contained by this high perimeter was the interior land where the "overburden' had been deposited and then reclaimed around twenty years ago. PCS had planted Sycamore saplings and by now the trees were huge and thriving. There was thicket beneath the towering trees and animal trails into the thicket. The shoreline had been left alone. It was lined with huge old growth hardwoods. As we stood there we knew we were in the footsteps of our ancestors.
By the terms of Abraham's 1747 will, my 5GGrandfather, Peter got 2nd Gut. PCS Phosphate was just now building a road through the land he called 2nd Gut but not near the shoreline of the Pamlico.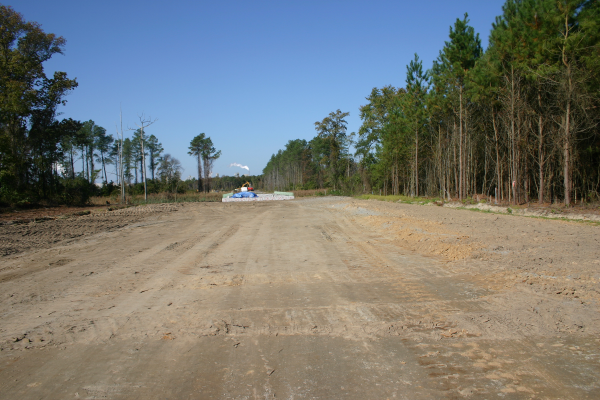 Road with bridge over 2nd Gut in background.
Shorelines were very important in the 1700's. People used the rivers for transportation and commerce and they built their homes and plantations near the water. That is also why these shorelines are important to us as genealogists. It's where our ancestors lived. Curt Brown showed us where a grave was located and we found this headstone there probably of a Bond, a neighbor of our Pritchett ancestors.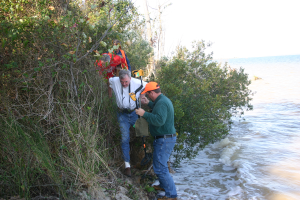 Exploring the shoreline together!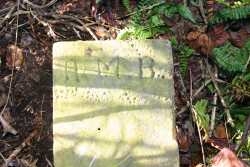 Headstone on the shoreline
He told us about a foundation that had been along the shore but the shoreline had eroded fifty or more feet from what it had been in the 1800's. Curt said that a hunter had found some artifacts there, some clay pipes and a barrel bung that he wanted us to have and presented them to us.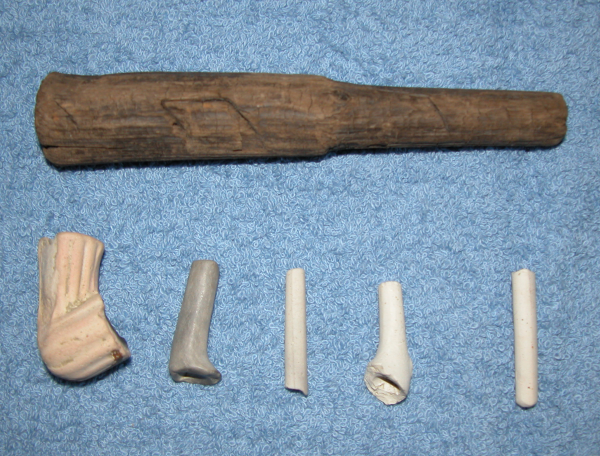 Artifacts found at 2nd Gut
That was a great ending to a fantastic two days walking in the footsteps of our ancestors!